---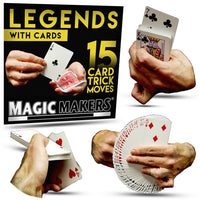 Are looking to become a "real" card worker? Or learn how to make someone think of any card you want them to?
That is exactly what you will learn in this comprehensive course on card trick moves.
We have compiled 15 of the BEST original card moves that have never before been published until now.
Perform some of the most amazing controls, false shuffles and passes known in magic as well as the elusive power to make someone think of the card you want them to think of.
COURSE CONTENTS
The Convincer
The Spin Pass
The KN Shift
The Classic Pass
The Spring Pass
Deception Card
Flip Flop to the Top
KN Cover Pass
Spread Reverse
KN Bottom Control
The Magic Control
The Think Control
Roll Up Sleeves Pass
One Handed Shift
Open Side Steal
The Point Control
KN False Shuffle
Questions & Answers
Have a Question?
Be the first to ask a question about this.
Ask a Question