---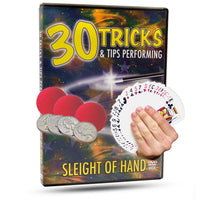 Sale
With 30 Tricks and Tips with Sleight of Hand by Magic Makers, you will learn from the best!
Follow step-by-step, as Eddy Ray teaches you how to use sleight of hand to perform powerful magic.
You can learn how to perform tricks with coins, sponge balls and even cards.
Sleight of hand is a foundational part of magic.
Learning how to manipulate cards and coins will allow you to easily learn more tricks as you grow as a magician.
Follow along as expert Eddy Ray teaches you how to master Sleight of Hand.
COURSE CONTENTS
CORE SLEIGHTS
Flipstick Move
French Drop
Using the French Drop
Palming a Card
Trick Using a Palmed Card
Eddy Ray's Table Sidechange
Adaption of Table Sidechange
COIN SLEIGHTS
Palming Techniques:
Finger Palm
Classic Palm
Thumb Palm
Downs Palm
Vanishing Techniques:
Toss Vanish
Take Vanish
Take Vanish Bonus
Appearing Techniques:
Production from Downs Palm
Thumb Palm Switch
CARD SLEIGHTS
Palming Techniques:
Back Palm
Front Palm
Vanishing a Card Using Back Palm:
Toss Vanish With Back Palm
Pivot Move
SPONGEBALL SLEIGHTS
Palming Techniques:
Finger Palm
Thumb Clip
Back Palm
Classic Palm
PLUS
Chink & Chink
Two In Hand, One In Pocket
Impromptu Coin Routine
Card Through Handkerchief
Cards From Mouth
Questions & Answers
Have a Question?
Be the first to ask a question about this.
Ask a Question