---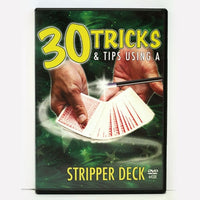 Sale
Discover the magic of the stripper deck in this comprehensive magic training course!
The stripper deck looks like a regular deck of cards but there is a slight difference that sets it apart.
This deck is tapered.
This comprehensive magic training course will allow you to master all the tips and tricks of the stripper deck!
Astonish your audiences with these remarkable effects!
You Will Learn:
Introduction to the Stripper Deck
Basic Handling & Shuffling Techniques
Anatomy Of Stripper Deck
ER's Advanced Cutting Subtlety
Magician's Millennium Move
Fixing the Deck
Reversed Card to Top
The Stripper Deck Force
Hindu Shuffle Control
Pick A Card, Any Card
Gambler's Choice
Covered Vision
The Guarded Deck
Cutting the Deck
Easy Giant Fan
Color Separation
All Mixed Up
Odds and Evens
Mind Miracle
Running Gag
Sticky Situation
Questions & Answers
Have a Question?
Be the first to ask a question about this.
Ask a Question