---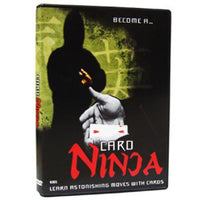 Now you, too, can learn the best of the best cuts, forces, color changes, passes, routines & much more on this exciting magic training course.
Learn over 50 great effects!
This Instructional Magic Training Course Includes...
CUTS & FALSE CUTS
Ninja Charlier Cut
Ninja Triple Charlier
False Ninja Cut
Warrior Cut
Ninja Thumb Cut
Revolution Cut
Swing Cuts
Swing Swivel Cut (Retain Top)
Swing Swivel Cut (Full Deck Retention)
Dr. Casavan Cut
Ultimate Illogical Cut
FORCES
Balducci Force
Criss-Cross Force
Golden Force
Riffle Force
Dribble Force
SHUFFLES & FALSE SHUFFLES
In Hands Riffle Shuffle
Faro Shuffle
1 Handed Riffle Shuffle
Over Hand Shuffle
Jog Shuffle (Top Control)
Jog Shuffle (Bottom Control)
Underhanded Overhand Shuffle
False Haymow
COLOR CHANGES
Erdnase Transformation
Snap Change
Ninja Change
Twister
Blink Change
Window Change
Spin Change
Miracle Change
Tebe Change
Vernon No-Palm Change
Paintbrush Change
Top Change
PASSES
Classic Pass
Classic Pass Bonus Feature- Covered Classic Pass
Hermann Turnover Pass
Midnight Shift Pass
Reverse Hermann Turnover Pass
RW Shift
MANIPULATIONS
Ninja Card Manipulation
2 Handed Pivot
Split Fan Production
5 Card Vanish & Reproduction
NINJA FLOURISH ROUTINES
Flip Back
Deck Toss
Thumb Fan
Blind Rotational Sybil
Ace Production
Butterfly
Flip Over Cut
Hip Shot
Ninja Jump
PLUS BONUS MATERIAL!
Questions & Answers
Have a Question?
Be the first to ask a question about this.
Ask a Question