---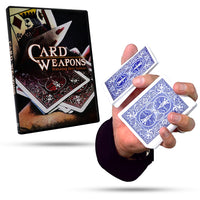 25 Must Have Card Tricks
Card Magic Training for All Skill Levels
Clear Instructions from Master Card Worker Ben Salinas
Watch - Learn - Perform
Magic Tricks by Magic Makers
Confidence is a key piece in performing card tricks at a high level. Your poise is just as important as your skill in performing these tricks. Ben Salinas addresses this very important quality in this magic training, Magic Makers - 25 Card Weapons.
With Ben's guidance you will gain the necessary confidence to perform these tricks in front of ANY audience.
Card Tricks You Will Learn in this Magic Training:
DJ Shift
Mario Miracle Switch
Reverse Hermann Pass
RW Spread Pass
Vernon Dribble Force
Depth Illusion
Push Off - 2 Cards
Push Off - 1 Card
Spread Double Lift
Pinky Count
Lorayne Double Lift
Thumb Count
Derek Dingle Double Lift
Strike Double Lift
Twirling Double
Say When Pass
Hindu Shuffle
Paintbrush Change
Swing Cut
One Handed Top Palm
Hip Shot
Flutter Change
Questions & Answers
Have a Question?
Be the first to ask a question about this.
Ask a Question