---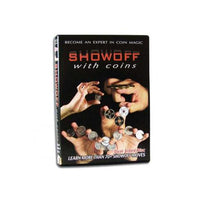 Experience the Ultimate Collection of Showoff Moves with Coins.
Everything you need to become an extreme showoff. This 2 volume set features over 70 MOVES! Five skill levels will take you from beginner status to showoff coin magician faster then you can say Tenkai!
COURSE CONTENTS
LEVEL 1: BEGINNER
Finger Spin
Axis Spin
Coin Twirl
Coin Flip on Table Edge
Elbow Catch
Flipover Balance
Flat Palm
Flat Spin
Flicking A Card Out from Beneath a Coin on the Fingertip
Forearm Roll from Between Fingers
Jumbo Arm Roll
Horizontal Toss & Catch
Jumbo Flipback
Table Spin (Two Handed)
Table Spin (Spin with First Finger)
Table Spin (One Handed)
Waterfall
Bobo Change
Fake Spellbound
"Penny to Half Dollar" Change
LEVEL 2: INTERMEDIATE
"Matrix" Heel Slide Change
3 Coin Roll from Hand to Hand
Claw Catch
Coin Flip
Flat Spin to Food to Hand
Front to Back
Jumbo Coin Rollout
Lazy Steeplechase
Pumpkin Seed Toss
Quarter Bounce & Catch (on edge)
Quarter Bounce (flat)
Quarter Bounce (on edge)
Snap Toss
Surface Roll
T-Balance
Spellbound (Vernon)
Thumb Palm to Lying on Fingers
Sweep
LEVEL 3: EXPERT
Arm Pops
Arm Spread & Catch
Coin Fan
Flipback with Stack of Coins
Forearm Roll From Toss
Jumbo Cobra
Over & Under Steeplechase
Stack Shuffle
Steeple Chase
Spellbound Change to Jumbo Coin
Fingertip Change to Jumbo Coin
LEVEL 4: MASTER
2 Coin Splits
4 Coin Roll Down
4 Coin Roll Down to Coin Star
Coin Manipulation Routine
Muscle Pass
Table Shower
Two-Handed Steeple Chase (One Coin)
Two-Handed Steeple Chase (Three Coins)
4 Coin Vertical Coin Star
'Flurious' Change to Small Coin
LEVEL 5: SHOWOFF
10 Coin Roll Out
5 Coin Roll Down to Coin Star
5 Coin Roll Down
1st Coin in Palm
5th Coin Between Thumb & Pinky
Cartesian Balance
The Insect
Monocle Catch (hand - foot - eye)
5 Coin Vertical Coin Star
Questions & Answers
Have a Question?
Be the first to ask a question about this.
Ask a Question